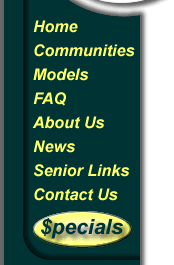 It is recommended that you first visit the "Communities" page to find out which community is right for you before viewing models or resales. Once you decide on a community, you can get a full listing of models and/or resales for that community directly from the bottom of that community's page. Click the link below to go to the Communities page.

Thank You.




Go to communities page



If you are returning to our site to check the latest listings, the table below will take you directly to desired listing page. Once again, if this is your first time at FloridaCommunities.com, it is suggested that you click the link above and learn about our communities before selecting models and/or resales for viewing.

View Videos of a New Generation of Manufactured Homes



Community
Lake Hammock Village
Ramblewood Village
Grand Valley
Southfork

.

Ramblewood

.

Orangewood

.
Back to home page

Click here for printer friendly version