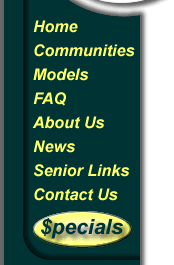 Resales



5 home(s) found available in the Orangewood community.




- Vaga

Model Number

Click to enlarge

Bedrooms

2

Bath

1

Approx. Sq. Ft.

672

Approx. Home Size

12x56

Year Built

1979

Price

$15,000

Details: PRICE REDUCED! 2bd/1bth comes furnished!Large sun room on the same level as the rest of the mobile, large car port, shed, and new central air, roof has 40yr. warrenty. Just bring your clothes! Community has lowest rent in the area, heated pool, clubhouse with lots of activities, shuffleboard courts, horse shoes, and lots of friendly people. Call Brenda 727-243-5336. For a virtual tour click here

Address: 7804 Middlebury Rd.



- Camelot

Model Number

Click to enlarge

Bedrooms

2

Bath

2

Approx. Sq. Ft.

672

Approx. Home Size

12x56

Year Built

1973

Price

$17,000

Details: Split floor plan, perfect for when company come to visit. Mostly furnished, sun room, shed, nice kitchen, and beautiful plants. 55+ active community has beautiful heated pool, horseshoes, shuffleboard courts, bonfire pit, clubhouse, and many activities. Call Brenda 727-243-5336. For a virtual tour click here

Address: 6505 Suncountry



- Camelot

Model Number

Click to enlarge

Bedrooms

2

Bath

1

Approx. Sq. Ft.

672

Approx. Home Size

12x52

Year Built

1981

Price

$15,000

Details: Very Very Nice! 2bd/1bth in a beautiful 55+ active community with the lowest lot rent around. Lots of living space with a built on Florida room, roof over, furnished, new stove, central air, built on shed, car port, and very clean. Call Brenda 727-243-5336 For a virtual tour click here

Address: 7914 Sunrunner dr



- Echo

Model Number

Click to enlarge

Bedrooms

2

Bath

1

Approx. Sq. Ft.

672

Approx. Home Size

12x56

Year Built

1974

Price

$9,500

Details: 2bd/1bth in a beautiful 55+ active community. Great location, across from our heated pool and close to clubhouse and activities. This home has a large carport, shed, screen room, open living space, and is priced to sell. Please call Brenda 727-243-5336 For a virtual tour click here

Address: 7821 Oldfield Rd



- Beac

Model Number

Click to enlarge

Bedrooms

2

Bath

2

Approx. Sq. Ft.

784

Approx. Home Size

14x56

Year Built

1986

Price

$15,900

Details: Lovely 2bd/2bth, split floor plan in a beautiful 55+ active community. Lowest lot rent in this area. high ceilings, new washer & dry, stainless fridge, glass top stove, and very nice decor. Please call Brenda 727-243-5336 . For a virtual tour click here

Address: 6501 Suncountry


Not used in Current Template


Click here for printer friendly version

Back to community page