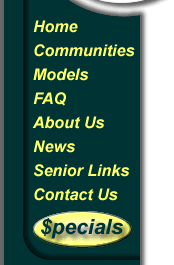 SOUTHFORK MANUFACTURED HOME COMMUNITY
August 1, 2005

Focus Magazine -- Story and Photos by Amy Ellis

DADE CITY -- Dick and Jean Hoopes wandered into the newly built Southfork community in November 1991 and knew they'd found a place to call home. The tidy landscape, welcoming staff and pleasant model homes sealed the deal. The couple were the first to buy a home in the then fledgling community, located off US 98 at the top of a small hill in Dade City. Jean proudly put the first tack on a map of the Southfork lots that hung in the community clubhouse.

"I'd already made up my mind we were going to buy when we drove in just to look;" said Jean, who eventually became the founding president of the Southfork Homeowner's Association. Later, she would start the pancake breakfast that continues today and more recently she took 1st place in the community shuffleboard tournament.

Jean still has a copy of an early Southfork brochure which shows photos of their bucolic yellow model home with two bedrooms, two baths, a sizable kitchen and pleasant sunroom that doubles as a home office, card room, and extra guest quarters. Portions of the home have gleaming hardwood floors. The outside is decorated with a variety of flowers the couple planted themselves and several large trees planted by the property owners and included in the price of the home.

Norm Spence, who manages the park, said residents take great pride in keeping their homes and yards in good condition. Of the 241 homeowners, more than 200 are members of the homeowner's association. Spence knows most of the residents by name. Many of the homes are decorated with artful statues, bubbling waterfalls, wind chimes or bird feeders, along with family crests, monograms and a variety of flags.

The community's tree-lined streets create a canopy effect that offers shade for the many walkers and bicyclists. Benches dot the landscape throughout. Other amenities include a clubhouse with card/game room, live entertainment and a dance floor, a large heated swimming pool with cabana for cookouts and special events and a library with computers and Internet access.




A monthly newsletter advertises a plethora of weekly and monthly events, including nickel and dime poker, horseshoes, bingo, card games, pinochle, coffee hours and potluck dinners. The community affairs committee organizes golf outings, arts and crafts classes, dances and a variety of day trips, including fishing, bowling, dinner theaters, jai alai and Disney, Epcot and MGM Studios. A lecture series is conducted in conjunction with St. Leo University. The community also offers classes for residents through an agreement with Pasco-Hernando Community College, St. Leo and the University of South Florida.

A Woman's Club Charity committee collects school supplies for needy families, as well as participating in the annual Toys for Tots drives.

With about 40 widows and widowers living at Southfork, the community recently created a special social group to plan activities such as card games, lunches or just regular meetings at the clubhouse. "Everyone here is real active, especially the ladies," Spence said. "There is no need for a widow to sit there and fade away."

Living at Southfork as long as they have, the Hoopes have become unofficial ambassadors for the community. After they raved about their new home, several friends of theirs from the RV park in Zephyrhills where they had been living decided to check out Southfork, as well.

They asked if we would mind if they moved next door, and we said, "Why not?" Jean Hoopes said, "You can pick your friends but you don't always get to pick your neighbors."

Spence, who has managed the now sold out property for the past three years, is most proud of the community's stunning views, located as it is at the top of one of East Pasco's highest hills. Driving a golf cart to one of his favorite lookouts, a rural scene of cow pasture, silos and orange groves, Spence says views such as these are another distinction that puts Southfork in a category all its own.

"It's a special place," he said. "And I've never worked around a nicer bunch of people."

Resales are limited and they often sell in a matter of days so call Norm and get on the waiting list.

Back to news page




Click here for printer friendly version